To promote its new MX-5 model in Canada, Mazda is unveiling a new magazine. But the brand is eschewing print and paper, and even a desktop, heading straight to people's smartphones on Instagram.
"On YouTube, some of the longer-format videos aren't being engaged with as much as we'd like."
The Insta-mag, called the MX-5 Roadster, by the Toronto-based team at ad agency JWT, is designed to take people through 25 years of MX-5.
"We like the fact that (Instagram) has a bit more of a hybrid platform with static imagery and video," says Michael Tsang, supervisor of interactive marketing, Mazda. "And it's still a bit untapped from a brand standpoint."
Launched last week, the "magazines" actually consist of a 9-panel shot that fit together to make a cover. Each individual image is a video, he says, giving a short history vignette into the brand's past. One magazine will be revealed per week until Sept. 3, when the new model is unveiled.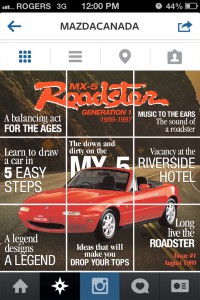 Because the car itself won't actually be available for purchase until 2015, this is a soft launch, Tsang says, simply revealing the new look. As such, the campaign will largely live on social, supported by Facebook and Twitter, with no mass media push until a traditional marketing campaign launches next year.
The brief to the agency was for "quick, consumable content," which comes from a shift in how customers are watching videos, he says. "It's what we're seeing on our (other) channels. On YouTube, some of the longer-format videos aren't being engaged with as much as we'd like. And we noticed the shorter ones were getting more hits."
As such, he says he thinks this will mark a shift towards shorter content.
This campaign follows the brand's successful "Long Drive Home" Instagram push, which also took advantage of Instagram's grid view to create a map of Canada. Images themselves were a blend of video and pictures from around the country. The campaign helped the brand grow its social media presence, which now sits at more than 2,700 Instagram followers.
The brand started delving deeper into social media about a year ago, he adds, with more investment behind the platform. In the 3 years since he's joined, he says they've invested considerably into social media, bringing the team back to Canada. Until recently, social was handled by an American agency, but the decision was made to bring it back to Canada to better reflect the Canadian voice. Now, the brand has two people in English Canada and one in Quebec at JWT, handling the various platforms.
As such, the brand's Instagram strategy is markedly different than the U.S., which went the traditional route, posting photos and the occasional video. Instead, Mazda Canada is all about creating "joined" or connected content to create a longer story. The magazines and the "Long Drive Home" have already caught the eye of international offices, who are interested in leveraging the content, he says.
For this particular campaign, the brand is targeting 18- to 35-year-olds. The last magazine will go live on Sept. 3, but the brand will support the content socially until mid-month, he says.
From Strategy