Though Twitter does not break out numbers by country for Canada, Adam Bain, president of revenue at the social media company, who was in Toronto earlier this week, says that, based on its total internet usership, Canadian users are more active than in many other places in the world, including the U.S.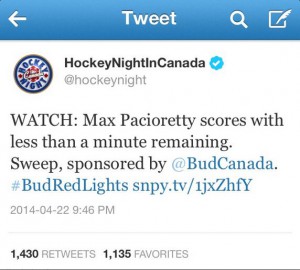 And it's not just Canadian consumers who are using the service at a breakneck pace, it's also broadcasters and brands, with each of the major networks signing on to use Twitter Amplify, and five programs going to market within Twitter Canada's first year of operation. Bain adds that Canada is the only market where each major broadcaster has signed on to use the service, which allows media cos to target exclusive video clips at groups of Twitter users, with brands sponsoring the content. A recent example comes from the CBC using Twitter Amplify with Budweiser around the NHL Playoffs.
The Canadian office is also unique in that it was recently given head count to add a head of research, something Kirstine Stewart, head of Twitter Canada, says not all markets receive in their offices. Former Ipsos VP Luke Stringer joined the Canadian team last month, and research that focuses on how marketers can use the service in Canada will be coming soon, adds Stewart.
While Bain was in Toronto to meet with the marketing community in the city this week, his colleague Deb Roy, chief media scientist at Twitter, was in the city to talk at Tuesday's Canadian Media Directors' Council Conference.
Roy highlighted Twitter's role as a "force multiplier," bringing screens closer together rather than separating them further. When using things like Twitter Amplify or Twitter's recent Canadian launch of  TV conversation tools, Roy emphasized the time-sensitive nature of promoting on the platform, likening the conversation on Twitter around any TV show to the fading nature of watching a setting sun.
From Media in Canada, with files from Michael Kolberg