Sebastian Junger is to self-release Korengal, a sequel to Restrepo – the Oscar-nominated war doc he made with the late Tim Hetherington – in New York City theatres in May, with a pay-VOD offering following in September.
The director, working with London- and New York-based indie Goldcrest Films, is forgoing the traditional festival and TV route with the 90-minute Afghanistan-set doc, in a bid to emulate "the Louis C.K. model" of self-distribution.
The comedian famously shook up the comedy world by eschewing a traditional network deal in favor of streaming his self-produced stand-up comedy special, Louis C.K. – Live at the Beacon Theater, on his own website for US$5 – a strategy which netted him a reported $1 million.
Junger and Goldcrest are banking on the turn-out of the dedicated fan base they built up in the two years spent marketing and promoting Restrepo – a film which, in addition to its Oscar nomination, also won a Grand Jury Prize at Sundance and a host of other plaudits.
"We're going to kind of use the Louis C.K. model," Junger tells StreamDaily's sister publication realscreen. "He just bypassed the whole power structure in media, which is pretty amazing, so that's what we're going to try and do.
"Documentaries don't get the opportunity to do that that often, but I think that we can because we have an enormous fan base from Restrepo. So we're in a great position to leverage that."
The team is planning a crowdfunding campaign in April to aid the release, and will launch the film theatrically in New York on May 30. Then in the fall, they will make the film available for pay-VOD on their website.
"We're not selling it to a distributor – we've financed the entire film up until now and we're going to continue doing that," Junger says.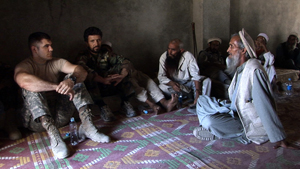 Korengal, like Restrepo, is largely comprised of footage shot by Junger and Hetherington while embedded with American troops during the Afghanistan war. Junger had originally planned to create a 3 x 60-minutes series called Battle Company, as previously reported, but instead has whittled the material down to a single film.
"It sort of picks up where Restrepo left off," Junger explains. "Restrepo, in my mind, was completely experiential; the point of it was to give civilians something like the experience of combat so they could understand what those soldiers were going through.
"Korengal is really not for civilians so much, it's for the soldiers. It's an attempt to understand the experience of combat on a very emotional level – particularly the prospect of going home."
One major difference between the two films is that while 2010's Restrepo (pictured below) was co-directed with Hetherington, who was killed in Libya in 2011, Korengal has been solely directed by Junger, with Goldcrest's Nick Quested serving as producer. The new film departs from the vérité style of the original somewhat, as it features an original score and some archival news footage.
Goldcrest will be selling TV rights for Korengal at MIPTV in Cannes next week.
Korengal will be Junger's third documentary, following on from Which Way is the Frontline from Here? The Life and Time of Tim Hetherington.
Realscreen first revealed in 2011 that Junger was making a doc about Hetherington, and the subsequent film went on to premiere at the 2013 Sundance Film Festival, winning widespread festival acclaim and earning a place on the 15-strong Oscar shortlist for Best Documentary Feature.
From realscreen