Netflix revealed its 2013 Q4 results Wednesday, and afterwards gathered its top execs in a live video hangout session to share thoughts on their recent business decisions.
While the U.S.-based streaming service is notoriously mum on statistics like series rating and a per-market breakdown of international subscribers, there were some interesting highlights.
Netflix gained 2.33 million U.S. subscribers last quarter, (14% higher than the previous year for that quarter) and 1.74 million subscribers internationally (down slightly from the previous year because of a four-market Nordic launch in 2012) and they show no signs of slowing down.
Spacey vs. Sochi
If you thought the House of Cards season 2 debut was intentionally (perhaps ironically) timed for Valentine's Day, well, there could be another reason for that scheduling.
"There's nothing special about this Q1," said Netflix chief executive officer Reed Hastings (pictured) at the start of the interview. But of course there is something special about it: the upcoming appointment-viewing draw of the Winter Olympics.
The company is still forecasting 2.25 million new subscribers in the U.S. in the first quarter of 2014, and 1.6 million more subscribers internationally — a prediction that would leave them with 48 million members at the end of this quarter. Chief financial officer David Wells said the impact of Sochi was taken into account when determining this growth potential.
"The Olympics for us are generally a negative because people are focused on watching something else rather than signing up for Netflix," Wells said.
But he added that the much-awaited new release of House of Cards should counter that. "The U.S. is excited and generally watches (the Olympics) and then House of Cards would be on the other side of that, which would be a positive, so our guidance numbers reflect all of those pluses and minuses."
Netflix wants to invest in more original movies
It's being credited for uprooting the traditional production and distribution models for TV, but Netflix is now also looking to change the way audiences watch new films. Chief content officer Ted Sarandos reiterated his desire to see more day-and-date releases during the call, but allowed that original programming might be the best way to achieve it.
"Movies still wait about a year behind theatrical (release) before they're available to folks like HBO and Netflix. What we like to do is look at different ways that we can accelerate that window. And maybe like with original programming, the most effective way to work that is just to do it yourself," Sarandos said.
International expansion and content spending

With plans to later this year "embark on a substantial European expansion" and with numerous original shows in the works, Netflix will raise an additional $400 million of long-term debt on terms similar to their $500 million raise last year.
Wells was asked about this decision, and he seemed to imply it was a just-in-case fund.
"We don't think that we'll need the money this year or next year. We may not even need it at all, but given our expansion plans with international and given our content expansion, which tends to run a little bit ahead on cash, we think the current interest rate environment is pretty attractive so we're going to add to the balance sheet."
Last September, Sarandos said at a U.K. conference that spending on original programming, which is about 10% of the company's total content spending, would double in the coming years.  He was asked if he could confirm that that would double this year.
"Today it's still the sub-10% we talked about before," Sarandos said. "We've announced several new projects that will take it up pretty dramatically, but I would keep in mind that it is within the total spend of our forecasting content spend, not in addition to."
Wells agreed that this year it's still likely to be under that 10%,  however adding that it will continue to grow with the ratio of overall content spending.
Reed Hastings gives great quotes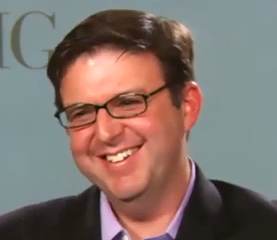 Moderator Rich Greenfield of BTIG Research asked about the reason behind the company's experimentation with a $6.99 pricing model, since it's just a dollar cheaper than the $7.99 monthly plan. "Why does a dollar make a difference? I mean do you really think there's that much impact form that one dollar?" Greenfield, (right) asked.
"Well you know Rich, of course at your income level, not to be too personal, it doesn't. But you know in going from 33 million U.S. members to hopefully more than twice that, every bit of savings is important to people," Hastings replied.
Hastings also added some zest to the growing rivalry between Netflix and HBO, by calling out CEO Richard Plepler for his comments last week that it's not a big deal if people share their HBO Go passwords.
"Yeah that was an interesting comment I suppose," Hastings said, when asked for his view on shared subscriber passwords. "So I guess Plepler, the CEO of HBO, doesn't mind me then sharing his account information. So it's Plepler@hbo.com and his password is 'NetflixBitch.'"
Binge is still key, no plans for ad-based model
After Netflix announced last month that its kids series Turbo F.A.S.T would be a batch upload, speculation mounted that it was moving away from the binge-viewing model. Sarandos wanted to dispel those myths, saying they wanted release was timed to coincide with the holiday season when kids would be at home.
In fact, Sarandos wanted to dispel what he said was a "mythology" around the drawbacks of releasing a series in its entirety, saying the online buzz around House of Cards, as measured by Google trends, was higher than that of cable series The Americans, which was released on the same day.
"Week over week over week, there is more chatter about House of Cards than there is about The Americans. And the same thing is true of The Bridge and Orange Is The New Black that debuted on the same day. So I think that that mythology should be dispelled by now and the consumers really love it."
When asked about changing fundamentals of their business model, such as possibly introducing an ad-based model, Hastings gave a firm "no," saying Netflix wants subscribers to be in charge of the viewing experience, and wouldn't want to compromise that by trying to "cram advertisements down people's throats."